Welcome to our latest blog post, where we delve into the dynamic world of real estate trends in Morristown and Morris Township, NJ. If you're considering buying or selling a property in this vibrant region, it's crucial to have a firm grasp of the current market dynamics. Morristown stands as a shining jewel of the real estate market. As a historic town with a blend of urban sophistication and suburban charm, Morristown has been capturing the attention of homebuyers and investors alike.
In this post, we'll provide insights into the prevailing trends that are shaping the real estate landscape in these sought-after towns, with a special focus on Morristown.
Strong Demand and Limited Inventory
Morristown, along with Morris Township, is experiencing a remarkable surge in demand for housing. The allure of well-preserved historic neighborhoods, coupled with modern amenities, has created a scenario where the supply of homes struggles to keep up with demand. This has led to a competitive seller's market, driving up property values.
Rising Property Values
Home prices in Morristown have been on an upward trajectory, reflecting the town's desirability and the scarcity of available homes. This upward trend is expected to persist, making the present a potentially advantageous time for sellers.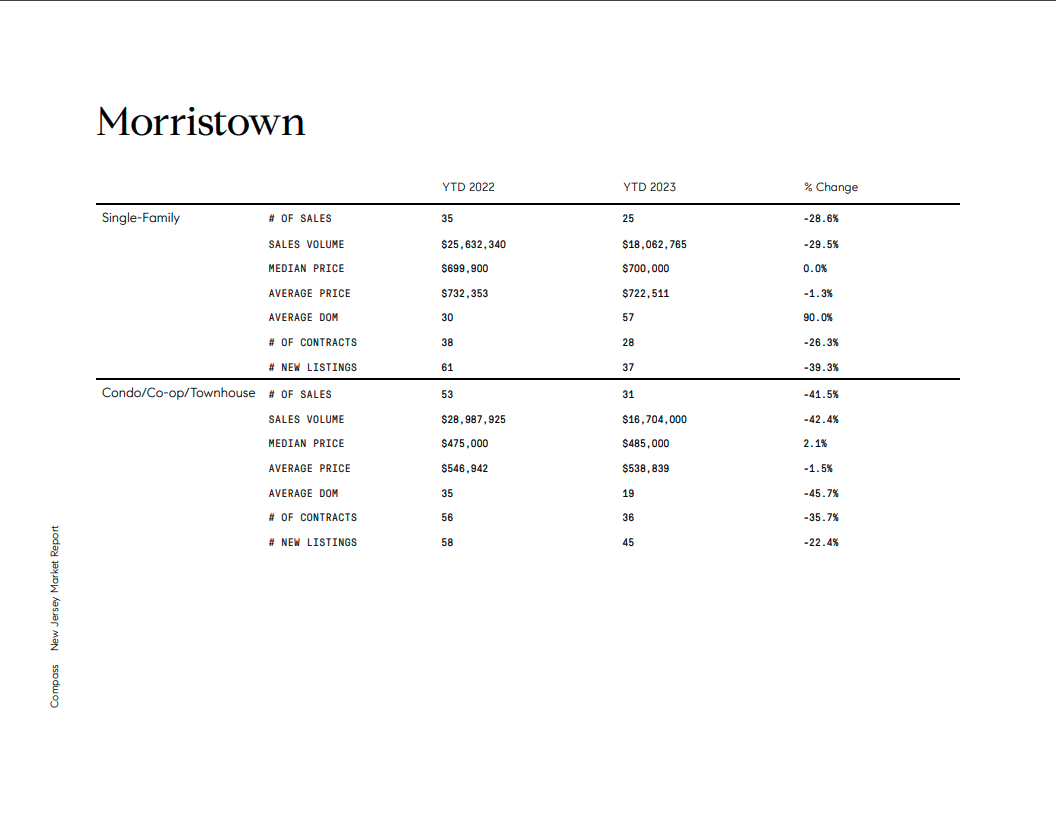 Q2 2023 Market Report for Morristown, NJ. Source: Compass New Jersey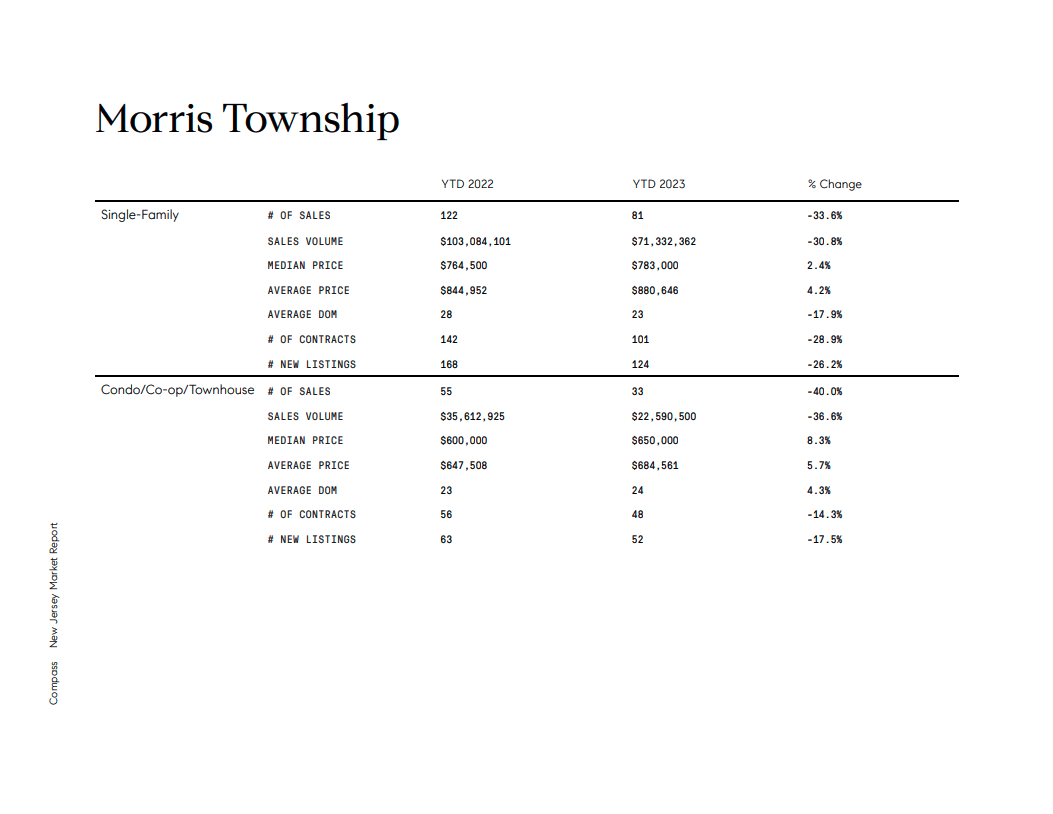 Q2 2023 Market Report for Morris Twp, NJ. Source: Compass New Jersey
Urban-Suburban Lifestyle
Morristown's unique appeal lies in its ability to offer an urban-suburban hybrid lifestyle. With a walkable downtown area featuring trendy boutiques, diverse dining options, and cultural attractions, the town caters to residents seeking a convenient, cosmopolitan experience.
Remote Work's Influence on Housing Preferences
The widespread adoption of remote work has significantly influenced housing preferences. Homebuyers are seeking properties with dedicated home office spaces and adaptable layouts that cater to the demands of remote work and flexible schedules.
Sustainability and Energy Efficiency
Eco-conscious buyers are drawn to properties that align with their sustainable values. Morristown and Morris Township have seen an increase in interest in homes equipped with energy-efficient features, such as solar panels and smart home technologies.
Engaging the Expertise of a Local Agent
Navigating the intricate real estate landscape of Morristown and Morris Township requires expert guidance. An experienced local real estate agent can provide invaluable insights into market trends, property values, and negotiation strategies.
As the real estate scene in Morristown continues to evolve, staying informed is key to making well-informed decisions. Whether you're a prospective buyer or seller, understanding these trends can position you for success in this competitive market.
As a seasoned Morristown real estate expert, I'm dedicated to assisting you in navigating these trends and making the most of your real estate endeavors. Whether you're eager to find your dream home or considering selling your property, I'm here to provide tailored advice and a comprehensive understanding of the local market dynamics. Get in touch today for a personalized consultation and let's embark on this exciting real estate journey together.