Nestled in the charming town of Morristown, New Jersey, the Butterworth Farms neighborhood offers an idyllic blend of natural beauty, modern convenience, and a strong sense of community. As a real estate agent, I've had the privilege of witnessing the allure of Butterworth Farms firsthand. In this blog post, we'll delve into the essence of this captivating neighborhood, highlighting its rich history, top-notch amenities, and the factors that make it a sought-after destination for homeowners and families alike.
A Glimpse into the Past
Butterworth Farms boasts a rich history dating back to the early 18th century. Originally settled by the Butterworth family, the area quickly flourished into a thriving farming community, and remnants of its agrarian heritage are still evident today. As you explore the neighborhood, you'll encounter historic barns, silos, and well-preserved farmhouses that stand as a testament to its agrarian roots.
Location and Accessibility
One of the most appealing aspects of Butterworth Farms is its strategic location. Situated just a short drive from downtown Morristown, residents can enjoy easy access to a plethora of shopping, dining, and entertainment options. Additionally, the neighborhood's proximity to major highways and public transportation hubs ensures seamless connectivity to neighboring towns and New York City, making it an excellent choice for commuters.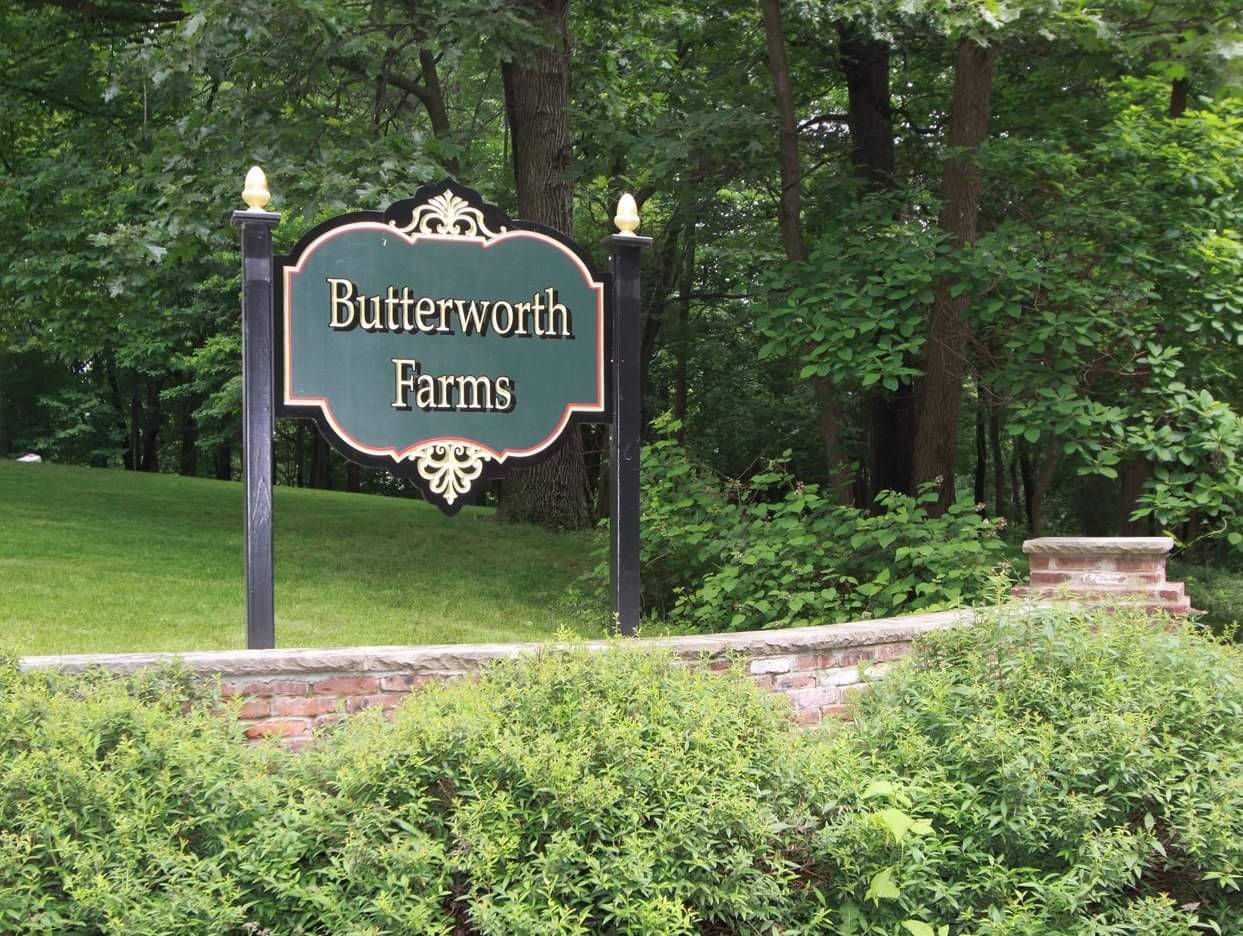 Photo courtesy of Facebook/Butterworth Farms
Tranquil Surroundings and Nature's Bounty
True to its name, Butterworth Farms is embraced by picturesque landscapes and lush greenery. The neighborhood is flanked by rolling hills, tranquil streams, and beautiful woodland areas, providing ample opportunities for residents to explore nature and engage in outdoor activities. Families will delight in the abundance of parks and playgrounds, creating the perfect setting for children to grow, play, and make lifelong memories.
Diverse Housing Options
Butterworth Farms offers an array of housing options to cater to various preferences and budgets. Prospective homeowners can find elegant single-family homes with spacious yards, charming townhouses, and luxurious apartments, each boasting unique architectural styles that add to the neighborhood's visual appeal. Whether you're a young professional, a growing family, or a retiree seeking a serene retreat, Butterworth Farms has a home that suits your lifestyle.
Top-Rated Schools
For families with children, education is a paramount consideration when choosing a neighborhood. Butterworth Farms is served by some of the finest schools in Morristown, renowned for their academic excellence and dedicated faculty. These schools provide a nurturing environment that fosters intellectual growth and personal development, making Butterworth Farms an ideal choice for families looking to invest in their children's future.
Community Spirit and Events
The strong sense of community is one of the defining features of Butterworth Farms. Throughout the year, residents come together for various events and celebrations, fostering lasting bonds and creating a welcoming atmosphere for newcomers. From seasonal festivals to neighborhood gatherings, there's always something to look forward to in this tight-knit community.
Thriving Local Businesses
Supporting local businesses is not just a trend; it's a way of life in Butterworth Farms. The neighborhood takes pride in its locally-owned shops, boutiques, and eateries, adding to the town's distinctive character and providing residents with unique experiences. From artisanal goods to farm-to-table dining, Butterworth Farms offers a delightful array of options that cater to diverse tastes.
Real Estate Market Trends
The real estate market in Butterworth Farms has been consistently robust, reflecting the neighborhood's desirability and strong demand. Over the years, property values have shown steady growth, making it an appealing prospect for homeowners and investors alike. As a real estate agent, I can attest to the fact that properties in Butterworth Farm tend to sell relatively quickly due to the blend of charm, convenience, and natural beauty it offers.
Conclusion:
Butterworth Farms in Morristown, NJ, is a gem of a neighborhood that encapsulates the essence of community, nature, and history. With its tranquil surroundings, top-notch amenities, excellent schools, and diverse housing options, it's no wonder that so many families and individuals aspire to call this place home. As a real estate agent, I'm proud to represent this enchanting neighborhood, and I'm confident that it will continue to be a cherished destination for years to come. Whether you're seeking a serene retreat or a vibrant community to thrive in, Butterworth Farm has something special to offer everyone. If you're considering making a move, don't miss the opportunity to explore this captivating neighborhood and discover the perfect place to put down roots.