Welcome to Morristown North, an enchanting neighborhood nestled in the heart of Morristown, New Jersey. This idyllic community offers a perfect blend of historical allure, modern amenities, and a warm, welcoming atmosphere. If you are looking for a place that exudes small-town charm with easy access to big-city conveniences, Morristown North is the ideal destination. In this blog post, we'll take a closer look at what makes Morristown North stand out as a coveted neighborhood and why it's an excellent place to call home.
Rich History and Heritage
Morristown North is steeped in history, and its significance dates back to the American Revolutionary War. During that pivotal period, it is well known that Morristown served as George Washington's headquarters in the harsh winter of 1779-1780, further cementing its place in American history. Today, visitors and residents alike can explore the very neighborhood enriched with its history.
Quaint and Vibrant Downtown
Morristown North boasts a lively and walkable downtown area that captivates locals and visitors alike. South Street, in particular, serves as the pulse of the community, offering an eclectic mix of boutique shops, art galleries, and charming cafes. The Morristown Green, a picturesque park located in the heart of downtown, plays host to seasonal events, festivals, and concerts, further enriching the community's vibrant spirit.
Source: Morristown Partnership [1]
Photo courtesy of northjersey.com
1776 On the Green: The star of the show in the Morristown, New Jersey's North neighborhood is 1776 on the Green, a charming and historic restaurant located in the heart of Morristown. Situated in a beautifully preserved building dating back to the late 18th century, the restaurant exudes old-world charm with a modern flavor. The ambiance is warm and inviting, making it the perfect spot for a memorable dining experience. The restaurant also has a separate Top Golf suite, perfect for private events and work events where virtual games for all can be played, such as golf, soccer, aombie dodgeball, and more.
At 1776 on the Green, the menu is a delightful fusion of traditional American cuisine and modern culinary innovations. The talented chefs take pride in using locally sourced, seasonal ingredients to craft delectable dishes that appeal to all palates. From hearty classics like New England clam chowder and mouth watering steaks to innovative twists on American favorites, there's something to please every discerning diner. With its impeccable service, historic ambiance, and flavorful creations, 1776 on the Green has become a beloved culinary destination in Morristown, where diners can savor not only delicious food but also a taste of history. I highly recommend the 1776 rolls, which are my personal favorite.
Excellent Educational Opportunities
Families residing in Morristown North have access to exceptional educational facilities. The neighborhood is served by the esteemed Morristown School District, known for its commitment to providing top-rated public schools. These schools not only excel in academics but also offer a wide range of extracurricular activities, ensuring a well-rounded education for all students. Additionally, Morristown is home to reputable private schools, adding further diversity to the educational landscape.
Source: Morristown School District [2]
Abundance of Outdoor Activities:
Nature enthusiasts will find themselves in paradise in Morristown North, as the neighborhood is surrounded by picturesque parks and nature reserves.
Patriots Path: Patriots Path is a picturesque trail system that weaves its way through Morristown North, providing residents with an exceptional outdoor experience. This multi-use trail offers hiking, biking, and jogging opportunities amidst serene natural surroundings, offering an escape from the urban bustle. Patriots Path is not only a recreational haven but also serves as a historical route, passing through significant sites related to the American Revolutionary War, allowing visitors to immerse themselves in the rich heritage of the area.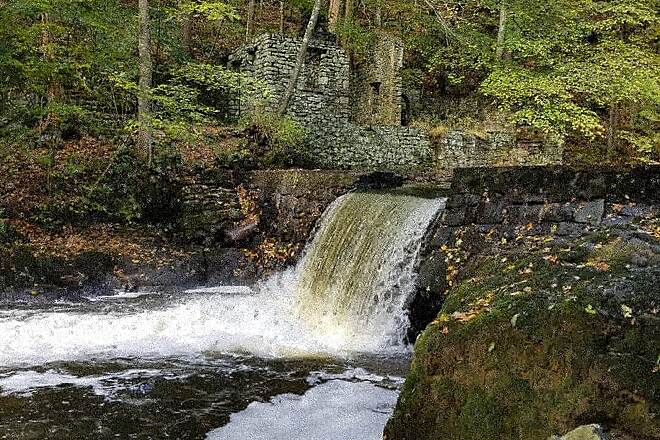 Patriot's Path waterfall. Photo courtesy of TrailLink
Speedwell Park: Nestled within Morristown North, Speedwell Park is a beloved community space that promises relaxation and recreation for all. Its lush green lawns and beautifully landscaped gardens create a tranquil setting perfect for picnics or leisurely strolls. Moreover, Speedwell Park is renowned for housing the historic Speedwell Ironworks, where the telegraph was first successfully demonstrated by Samuel Morse in 1838, adding an educational element to the park's charm.
Convenient Transportation:
Morristown North's strategic location ensures easy access to major transportation routes, making it an attractive choice for commuters. The neighborhood is well-connected to Interstate 287, providing seamless travel to nearby cities like Newark and New York City. For those who prefer public transportation, the Morristown Train Station offers direct trains to Manhattan, making it a popular option for daily commuters.
Source: NJ Transit - Morristown Train Station [3]
Morristown North is a hidden gem within Morristown, NJ, offering a harmonious blend of history, charm, and modernity. With its rich heritage, excellent educational facilities, and thriving scene, it's no wonder that this neighborhood is a sought-after destination for both residents and visitors alike. If you're searching for a place where small-town appeal meets urban convenience, Morristown North is the perfect place to call home. Come and experience the allure of this delightful neighborhood, where community spirit thrives, and opportunities abound.
References:
[1] Morristown Partnership. https://www.morristown-nj.org/
[2] Morristown School District. https://www.morrisschooldistrict.org/
[3] NJ Transit - Morristown Train Station. https://www.njtransit.com/station/morristown