With summer's arrival, very few things pair better with summer than ice cream! Though Morristown, New Jersey, is a charming town that offers a delightful array of culinary experiences, its ice cream creameries hold a special place in the hearts of both locals and visitors alike. From traditional flavors to innovative creations, Morristown's ice cream scene is a true paradise for dessert enthusiasts.
Join me on this mouthwatering journey as we explore my top ice cream creameries in Morristown.
Beenie's Ice Cream
38 Morris St, Morristown, NJ 07960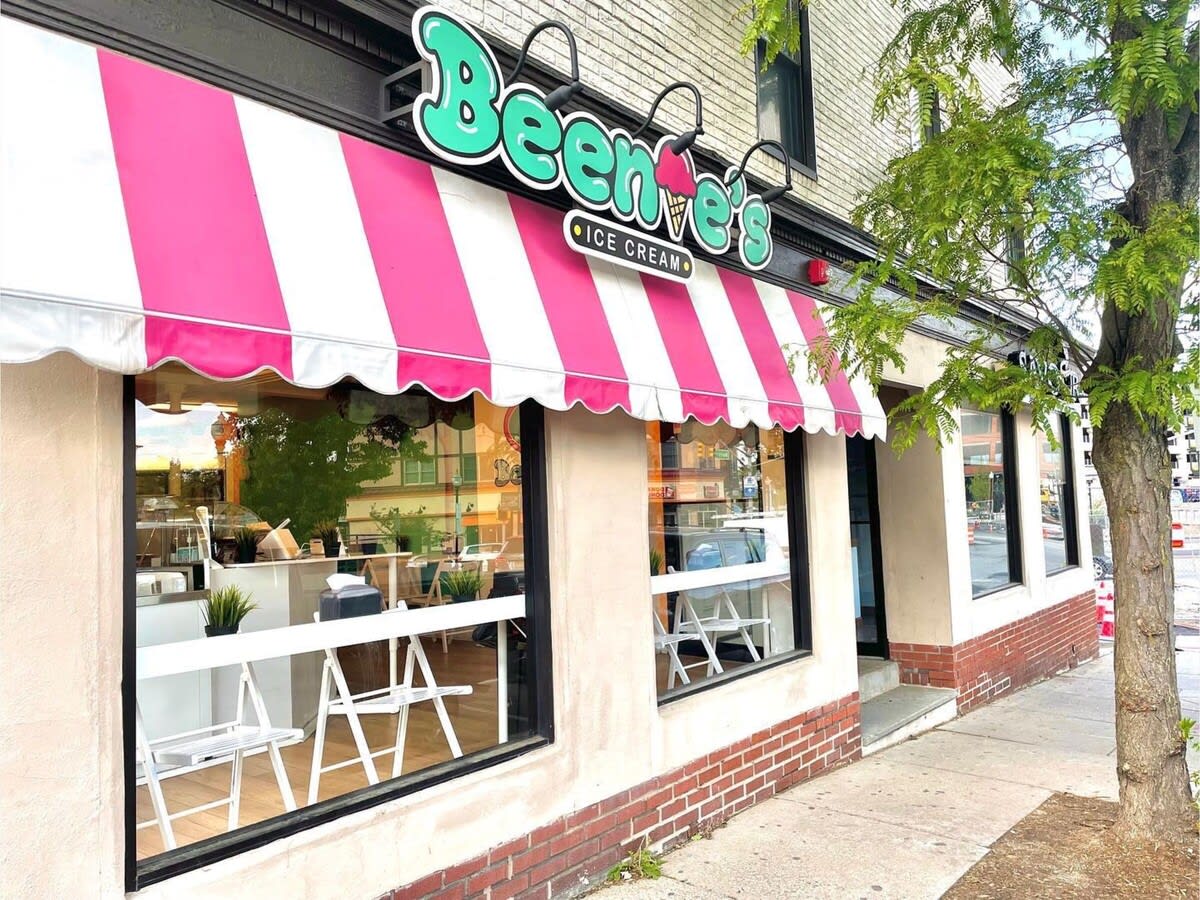 Photo courtesy of Morristown Minute
Beenie's Ice Cream is a charming and vibrant ice cream parlor located in the heart of Morristown, NJ and is my personal favorite, along with the rest of the Chaconas Group.
Known for its warm and inviting atmosphere, Beenie's has been serving up delightful frozen treats to the community for years. What sets Beenie's apart is their commitment to using high-quality ingredients by making their own dairy base from scratch using gallons of fresh milk and heavy cream, and thousands of pounds of sugar. This combination results in an exceptionally creamy and flavorful ice cream. From classic flavors like chocolate and vanilla to unique creations like Nutella Pretzel and Thai Iced Tea, Beanie's offers a wide range of options to satisfy every palate. With over 30 different flavors, Beenie's is sure to have a flavor for your sweet tooth.
In addition to their delectable ice cream, Beenie's caters to various dietary preferences by offering a selection of vegan and dairy-free options. Whether you're vegan, lactose-intolerant, or simply looking to try something different, Beenie's has you covered. Another bonus is that finding a parking spot is always a breeze. Whether you're enjoying a cone on a summer afternoon or indulging in a sundae with all the fixings, a visit to Beenie's Ice Cream is a delightful experience that will leave you craving more.
>>> Visit Beenie's Ice Cream to order or learn more
Stack Creamery
48 Washington St, Morristown, NJ 07960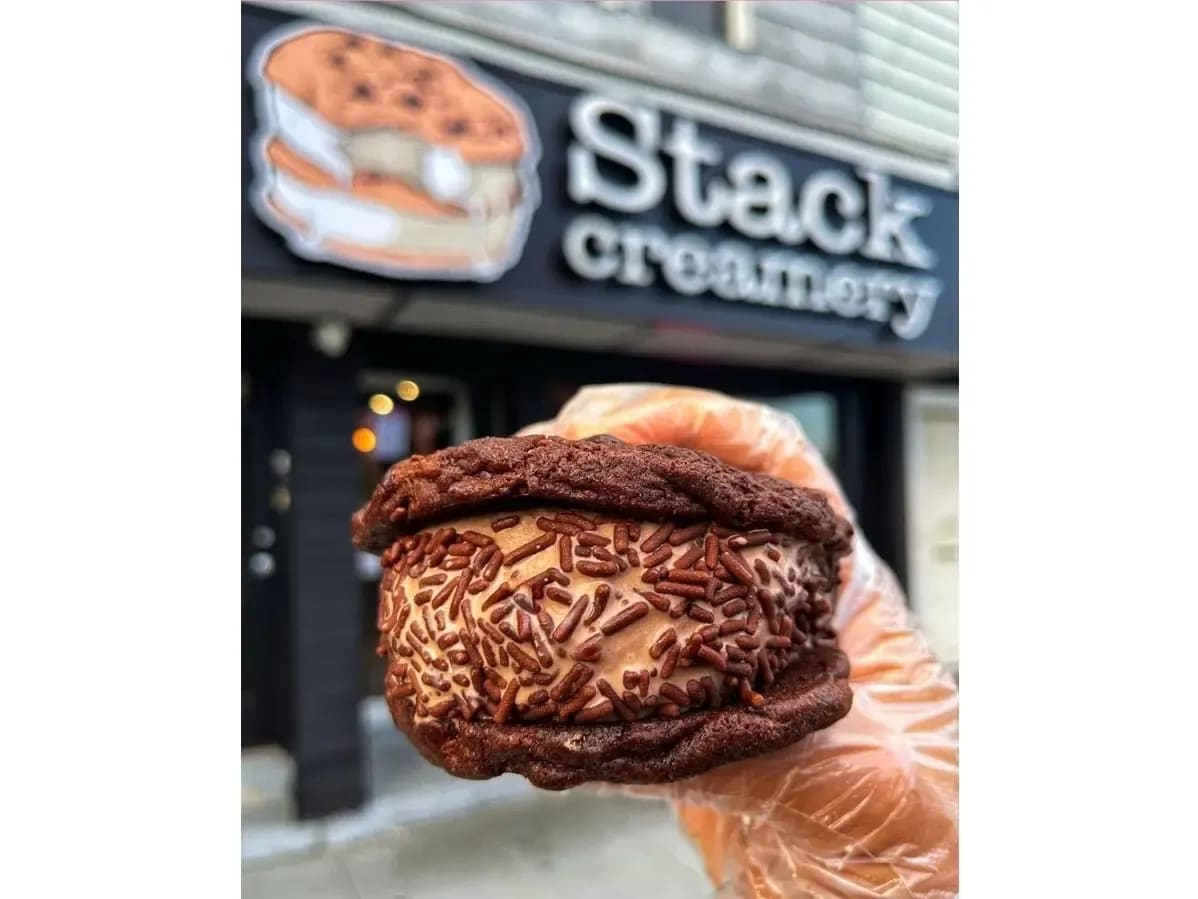 Photo courtesy of Stack Creamery
Located in the heart of Morristown, NJ, Stack Creamery is a trendy and innovative ice cream destination that brings a unique twist to the traditional ice cream experience. What sets Stack Creamery apart is their ice cream sandwiches. If you would rather have cookies or doughnuts with ice cream in between, Stack Creamery has you covered!
Though parking may be a challenge at times, Stack Creamery is worth the trip. Whether you prefer your ice cream in a cone, cup, sandwich or as a cake, Stack Creamery has you covered from classics like cookies and cream to inventive options like matcha green tea or fruity pebbles, each creation is made to order and customizable to suit your taste. The vibrant and modern atmosphere of Stack Creamery adds to the overall experience, making it a popular spot for locals and visitors alike to enjoy a unique and Instagram-worthy ice cream treat.
Whether you're seeking a fun dessert adventure or simply want to indulge in delicious ice cream, a visit to Stack Creamery in Morristown is sure to leave you craving more.
>>> Visit Stack Creamery to order or learn more
South Street Creamery
146 South St, Morristown, NJ 07960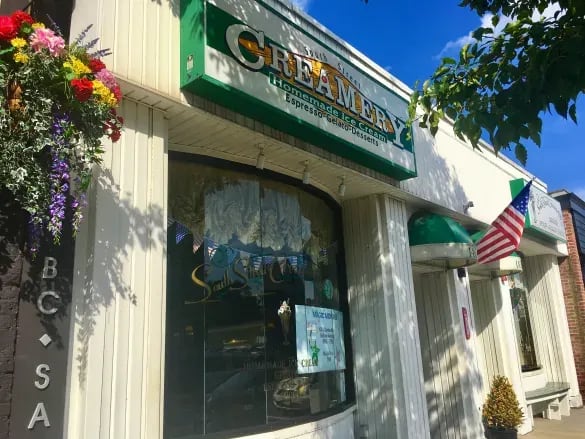 Photo courtesy of New Jersey Isn't Boring
South Street Creamery is a beloved ice cream parlor that has been delighting locals and visitors for years. Located in downtown Morristown, stepping into South Street Creamery feels like taking a step back in time with its nostalgic ambiance and friendly service. Their extensive selection of flavors, ranging from traditional favorites to unique creations, ensures that there is something for everyone to enjoy.
Each scoop from South Street Creamery is crafted with care, resulting in creamy and rich flavors that will leave you wanting more. Whether you opt for a classic sundae or indulge in one of their specialty treats, like the mouthwatering banana split, South Street Creamery offers a delightful experience that brings joy to ice cream lovers of all ages. They also offer sandwich, crepes and salad options if you want to pair a quick bite before devouring your choice of ice cream.
Don't miss the chance to visit this iconic Morristown institution and treat yourself to a sweet and memorable dessert.
>>> Visit South Street Creamery to order or learn more
Morristown is a treasure trove of delightful ice cream creameries, each offering its own unique twist on this beloved dessert. Whether you prefer classic flavors or are adventurous enough to try innovative combinations, these creameries have something to please every palate. So, the next time you find yourself in Morristown, be sure to indulge in the sweetest delights that these top ice cream destinations have to offer. Your taste buds will thank you!