Are you a prospective homebuyer in Morristown, eager to make the leap into the world of real estate? As you embark on this exciting journey, it's crucial to understand the intricate details that can affect the security of your investment. One such detail that often gets overlooked is title insurance – a safeguard that can provide you with peace of mind and protect your interests throughout the real estate transaction process.
What is Title Insurance and Why Is It Important?
Title insurance is a specialized form of insurance that safeguards your ownership rights to a property. It ensures that you're obtaining clear and unencumbered ownership of the property you're purchasing. While your real estate agent and attorney will work diligently to ensure a smooth transaction, unexpected issues related to property titles can arise, potentially threatening your ownership rights.
Here's why title insurance is of utmost importance for Morristown homebuyers:
Defending Against Title Defects: Title defects can include unresolved liens, fraudulent claims, undisclosed heirs, errors in public records, and more. Title insurance provides financial protection in case any of these issues arise, helping you avoid costly legal battles and potential loss of property.
Secure Ownership: When you purchase a home, you want the peace of mind that comes with knowing you have legal ownership of the property. Title insurance ensures that your rights to the property are protected, and any potential clouds on the title are addressed before you finalize the purchase.
Lender Requirements: If you're financing your Morristown home purchase through a mortgage, your lender will likely require you to obtain lender's title insurance. This protects the lender's investment in case of title issues, but it's essential to remember that this policy doesn't cover your interests as the homeowner.
Resale Value: Should you decide to sell your Morristown property in the future, having clear title insurance from the outset can simplify the process and potentially enhance your property's resale value. Buyers will be more confident in their purchase knowing that the property's title is secure.
Navigating Morristown's Real Estate Landscape
As a Morristown homebuyer, you're entering a vibrant and sought-after real estate market. The charming neighborhoods, proximity to essential amenities, and rich historical character make Morristown an attractive place to call home. However, with this attractiveness comes a heightened need for diligence when it comes to title insurance. In Morristown, title searches can uncover historical property nuances that may not be immediately apparent. From properties with multiple generations of ownership to intricate land history, the landscape can be complex. This is why having a comprehensive title insurance policy is critical to ensuring a seamless and secure transaction.
Choosing the Right Title Insurance Provider
When selecting a title insurance provider in Morristown, it's wise to partner with a reputable company that understands the nuances of the local real estate market. Look for providers with a proven track record of delivering thorough title searches, addressing potential issues, and providing clear policies that protect your interests as a homebuyer.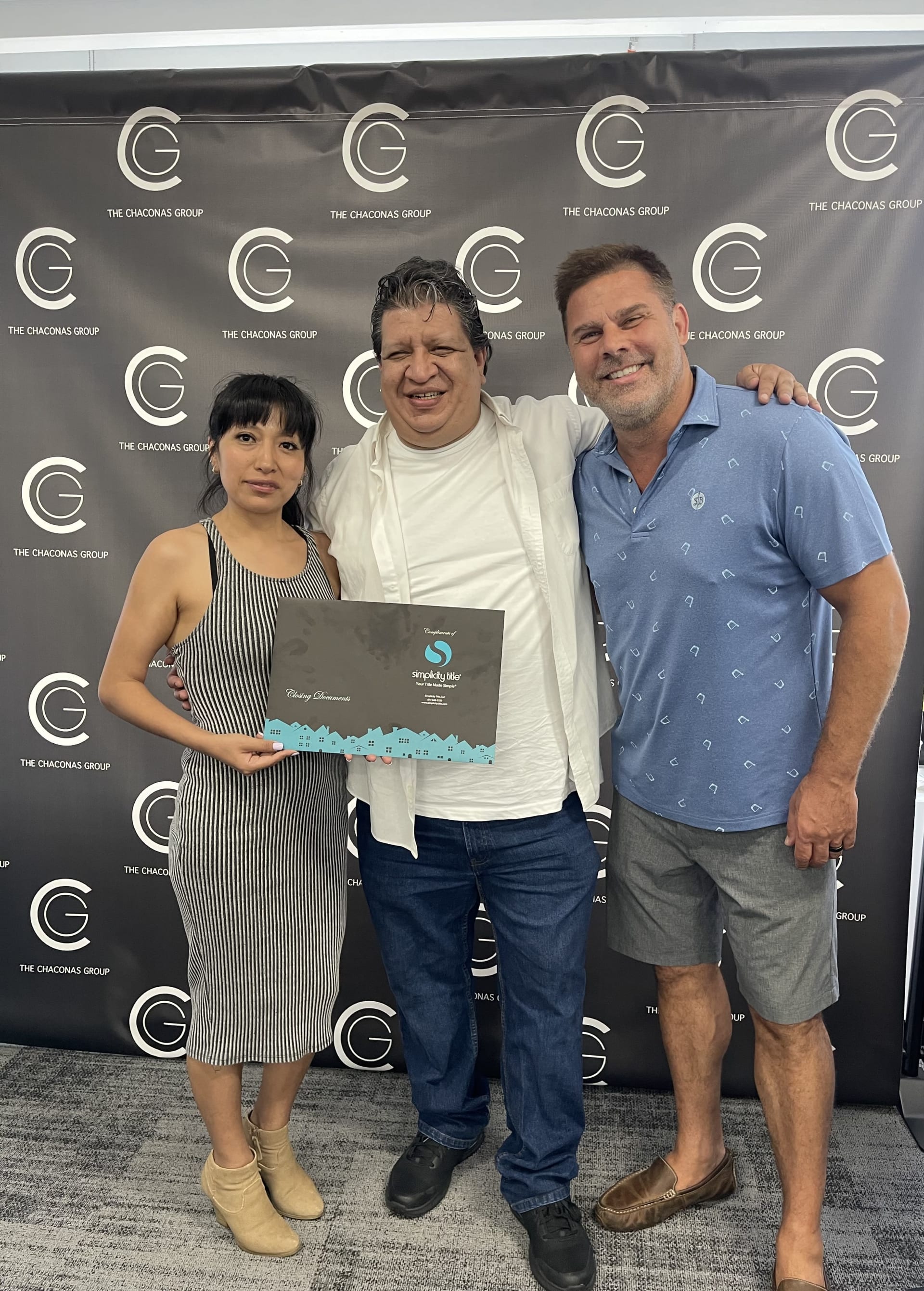 Agent Shawn Chaconas with buyers who closed using Simplicity Title
As a seasoned real estate agent in, I have consistently turned to Simplicity Title for their unwavering reliability and dedication to local expertise. When it comes to securing your investment in the vibrant Morristown real estate market, trust is paramount. With years of experience working alongside Simplicity Title, I can attest to their commitment to providing comprehensive title insurance services tailored to the intricacies of our community. Their in-depth understanding of Morristown's unique property landscape ensures that each title search is meticulous and accurate, giving you the confidence you need as a homebuyer. you're gaining a partner that prioritizes your peace of mind throughout every step of your real estate journey.
>>>For more information, please visit: Simplicitytitle.com
Remember, your Morristown dream home deserves the best protection, and title insurance provides just that. As you embark on this exciting chapter of homeownership, make sure to include title insurance as a crucial part of your real estate strategy. Title insurance is an indispensable tool for safeguarding your investment as a Morristown homebuyer. It offers a layer of protection against unforeseen title defects that could otherwise jeopardize your ownership rights. By prioritizing title insurance, you're ensuring a smooth and secure journey into Morristown's real estate market – a decision that can pay dividends for years to come.