Nestled in Morristown, New Jersey, the Morristown Farmer's Market stands as a vibrant testament to the community's commitment to fresh produce, artisanal crafts, and shared experiences. Every Sunday, this local gem offers a delightful blend of flavors, aromas, and connections, making it a must-visit destination for both residents and visitors. In this comprehensive guide, we'll take you on a journey through the Morristown Farmer's Market, highlighting its history, diverse offerings, engaging events, and its role in fostering sustainable living.
A Historical Glimpse
Established in 1990, the Morristown Farmer's Market has deep roots in the town's history. Over the years, it has transformed into a bustling hub that celebrates local agriculture, culinary arts, and creativity. The market's evolution mirrors Morristown's growth into a vibrant community that values the importance of supporting local producers and artisans.
The Bounty of Freshness
At the Morristown Farmer's Market, an enchanting array of stalls beckons visitors to indulge in the region's finest produce. Farmers from nearby fields proudly showcase their seasonal harvest, offering an assortment of organic fruits, vegetables, herbs, and more. As you explore the market, you'll encounter stands overflowing with the vibrant hues of heirloom tomatoes, crisp greens, and the aroma of just-picked herbs.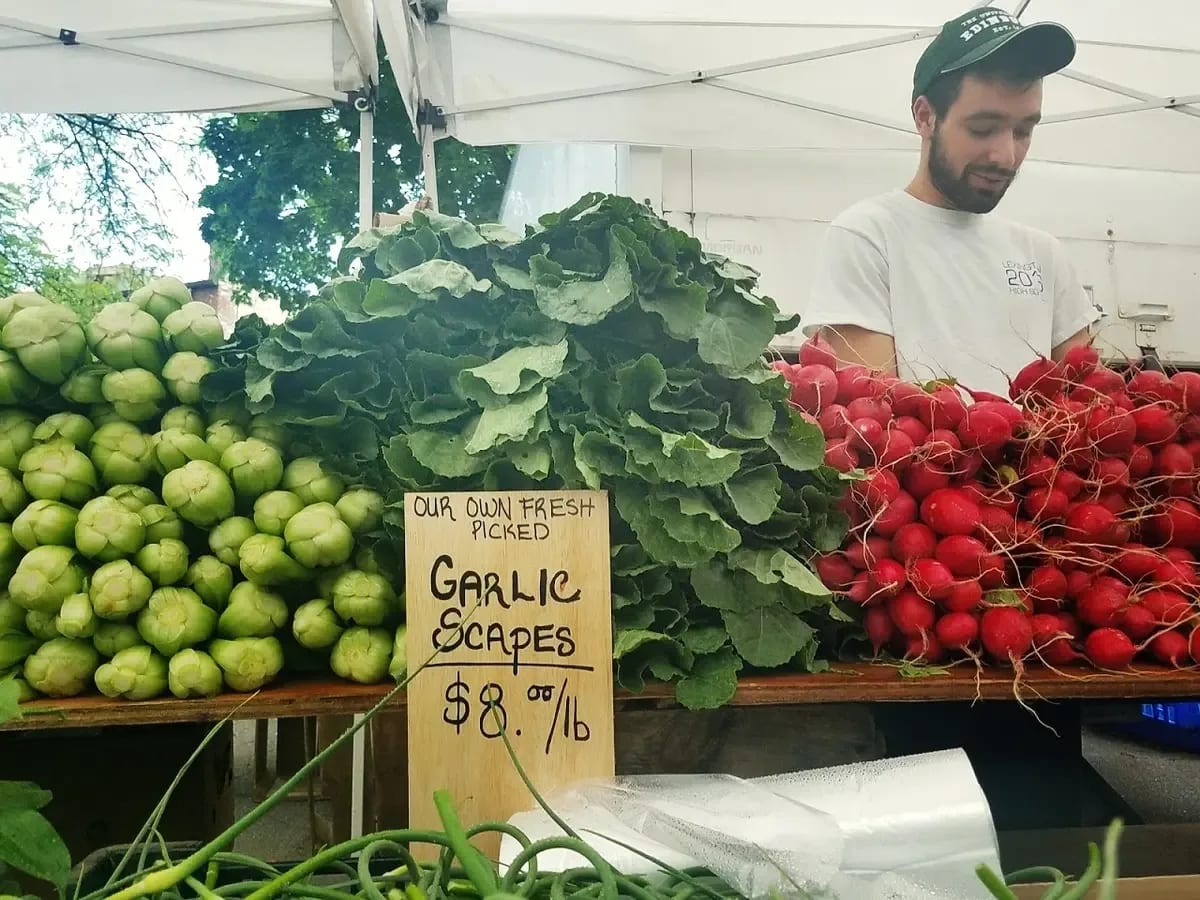 Photo courtesy of Patch/Jenna Fisher
Artisanal Delights
Beyond the farm-fresh produce, the market boasts an enticing selection of artisanal foods and handcrafted goods. From local cheeses to freshly baked bread, every corner reveals culinary treasures waiting to be savored. Take a journey through a tapestry of flavors by sampling gourmet jams, honey, and delectable baked treats. These unique offerings provide a direct link to the region's culinary heritage and a taste of the passion that local artisans infuse into their creations.
Engaging Events that Ignite the Spirit
The Morristown Farmer's Market goes beyond being just a marketplace; it's a hub of community engagement and celebration. Throughout the year, the market hosts a variety of events that cater to diverse interests, making every visit a memorable experience.
Sunday Sounds: Every Sunday, the market comes alive with the enchanting melodies of local musicians. Live performances set the perfect backdrop for leisurely shopping, enhancing the vibrant ambiance of the market.
Chef's Corner: Enhance your culinary skills by attending interactive cooking demonstrations led by renowned local chefs. Learn how to turn market-fresh produce into culinary masterpieces and elevate your cooking game.
Artisan Showcases: Delve into the world of creativity as local artists and craftsmen showcase their masterpieces. From intricate jewelry to captivating paintings, these showcases bring together art and commerce in a seamless blend.
Supporting Sustainability and Local Impact
The Morristown Farmer's Market serves as a catalyst for promoting sustainable living and supporting the local economy. Many vendors are committed to eco-friendly practices, reducing their carbon footprint and championing responsible consumption. By choosing to shop at the market, you're not just nourishing your body; you're also contributing to a healthier environment and nurturing a resilient community.
Unveiling the Community Spirit
More than a place to shop, the Morristown Farmer's Market is a space where connections are forged and stories are shared. It's where the town's diverse tapestry of residents and visitors come together to celebrate life's simple pleasures. Engage in conversations with local producers, exchange recipes with fellow food enthusiasts, and revel in the sense of belonging that permeates the market.
>>>To learn more, visit the Morristown Farmer's Market
As you immerse yourself in the bustling aisles of the Morristown Farmer's Market, you're not just indulging in the finest local produce; you're also becoming a part of a longstanding tradition that values quality, sustainability, and the power of shared experiences. Whether you're a food lover, an art enthusiast, or simply someone seeking a genuine connection with your community, the Morristown Farmer's Market invites you to savor its flavors, discover its treasures, and become a cherished part of its story.
With its rich history, diverse offerings, engaging events, and commitment to sustainability, the Morristown Farmer's Market is a treasure trove that reflects the heart and soul of Morristown, New Jersey. Whether you're a food enthusiast, an art lover, or someone who values community connections, the market offers an immersive experience that captivates the senses and nurtures the spirit. Visit the Morristown Farmer's Market and embark on a journey of culinary delights and shared moments that will linger in your memories long after your visit.
Sources:
Morristown Farmer's Market Official Website
NJ Monthly - Morristown Farmer's Market
Morristown Green - Market Events
The Star-Ledger - Artisan Showcase